Join ClickAlgo's Affiliate program and start earning money today and get up to 25% commision on products purchased from our web store.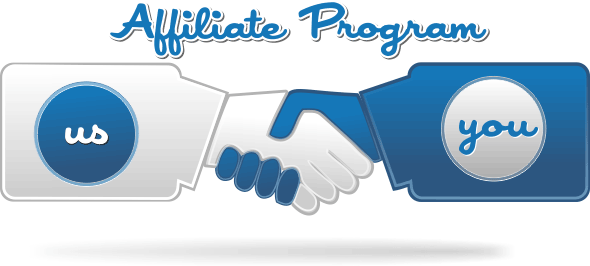 What Is An Affiliate Program?
An affiliate program is a marketing tactic relying on links between websites to drive traffic from one to another, in exchange for some benefit. In the case of ClickAlgo's affiliate program, when you promote our product to your customers. Or when your website refers visitors to our products; in exchange, you receive a commission on sales from visitors you send us.
How Do I Sign-Up?
It's easy and free to join.
To sign up for our program, you must read and agree to our Affiliate Program Agreement
Send us an email to affiliate (@) clickalgo.com telling us you would like to join, we will then ask for some information so we can register you on our affiliate partner network.
How To Advertise
You can advertise our products on your web or blog site and we will provide all the marketing material together with an affiliate link to the product on our web store and when you sign-up you will be given a unique affiliate ID or a friendly name. If the customer does not buy anything on their first visit, we keep track for a total of 10 days, so that if they return and purchase a product, you still get the commission.
How You are Paid
Pay per Sale: In this program, we pay you a percentage of the sale price.
If you refer a customer to our website then each product purchased will earn you up to 25% commision without taxes.
Payments are made on a monthly basis on the 1st of each month, No payments are made until the total value of your commission amount is greater than £50. Any payments below £50 will be carried forward to the next scheduled payment, while you will continue to accumulate commission until the minimum £50 level is reached.
You will be paid the total commissions via a PayPal account.

Browse Our Indicators & Trading Robots
Can I get a commission for referring new affiliates to your program?
At this time we don't provide any kind of second-tier affiliate commission when you refer a new affiliate to our program.
Is there any cost to become an affiliate?
No, it's a free program.
How Can I See My Referral Stats?
You can log into your secure personal affiliate page on our website and see all your stats incl. orders and commissions.
Do you pay commissions on all of your products?
We pay commissions on all of the products listed on clickalgo.com, except for the products that are used for the offered free for sample/testing/trial purpose.
Can I use content from your site?
We will provide all the contents and material that you require to recommend/promote/sell our products to your customers, but if there is something on the site you would like to use that is not provided by ClickAlgo, please email us at affiliate (@) clickalgo.com with your request to use it for the approval.
Note: You have to abide by the Terms & Conditions of the ClickAlgo.com Affiliate Program.