Registering our software is very simple, it follows just 4 steps if you need more help the brief video below explains how to register our cTrader software.
PLEASE TELL US THE PRODUCT NAME WHEN REQUESTING YOUR LICENSE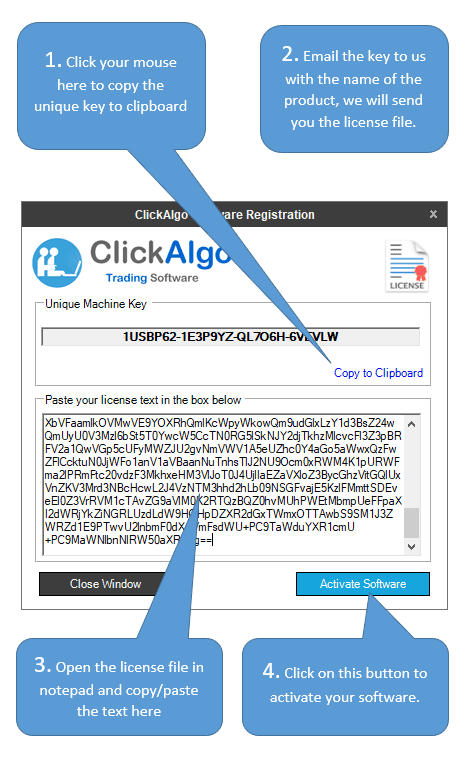 How To Register Our Trial Software
If the registration screen shows a Request Trial License button, you can receive your license by just clicking on the button, wait a few seconds for the license to load and then select the Activate Software button.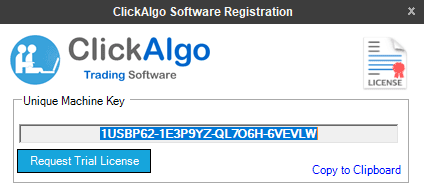 Need Help? Watch a Video Tutorial
"To watch the videos full screen, just start playing the video and click on the bottom right icon"
The video has been uploaded to 1080p High Quality, so do not forget to set your U-Tube video quality to 1080p HD.
Security Warning When Running Software
When you run our software for the first time, you will see this pop-up warning message from the cTrader platform, this is to protect you against untrusted publishers. We are a verified cTrader 3rd party vendor providing trading software for users of the platform, so we are a trusted publisher. If you have any doubts just google "ClickAlgo Reviews" and check out "Who Is ClickAlgo" on our website.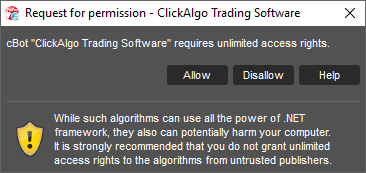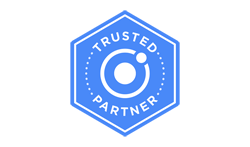 Microsoft .NET 4.6 Installation
If you are using an older version of the Windows operating system, you may need to install an update to run our software. When you run one of our products you may get a warning message telling you that you need to install this update. If this should occur just follow the steps to install this update.
Most modern operating systems like Windows 10 will already have this version of the framework installed.
Download Microsoft .NET 4.6 Framework
Configuring Your Monitor With a Custom Font Size
If you have you have set your monitor settings to a higher value than 100% for text, apps and other items that you may have some scaling issues.