In order for us to quickly fix any bugs in the software we created for you, we would need you to provide us with as much information as possible, the video below will help you gather all the information we need in the correct format and send it to us in an email to support (@) clickalgo.com
"Please Help Us, Help You"
Watch the Video, Set it as Full Screen and HD Quality

How to Take Screen-Shots of The Charts
The best method to show us, for example, incorrect entry and exit points in your strategy are to use the in-built snipping tool from Microsoft. Sometimes the easiest way to make a copy of something is to take a snapshot of your screen—this is what Snipping Tool does
Read This Article On How To use The Snipping Tool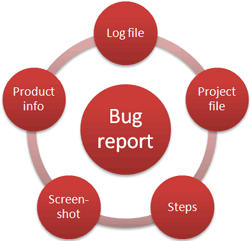 Information Required When Reporting Problems With Your Automated Strategy
To help us investigate and duplicate the error that you are reporting we would need to have as much information as possible so that we can create the exact same result, once we have the same result we can investigate and fix the problem as quickly as possible, in order to do this we will need the following information.
Pick a single trade that you feel is wrong, we only need one to investigate.
Date and Time of the entry point or where the error is occurring
Your UTC setting or your timezone
Your broker
The symbol you are using
The time-frame you are using
All your parameter values including indicators, so your complete cBot settings
A screenshot showing the trade entry and exit points using the snipping tool as described above
Your exported log data from cAlgo as shown below, just right click on the text and copy all to the clipboard, open notepad and paste the information, save it and send to us.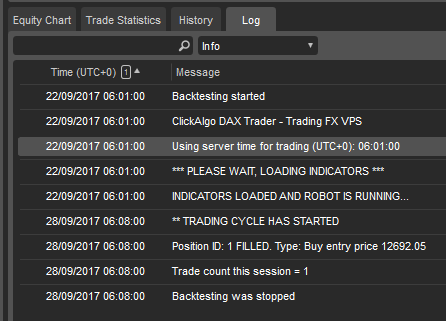 How To Capture an Example Trade Using The Snipping Tool
The image below shows you the type of screen-shot you should capture with a back-test using the snipping tool which at a glace will provide us with all the information we need. The trade should have opened and closed when the MACD lines cross, but as you can see this did not happen.