If you are a broker or company that gets asked to develop custom indicators and automated trading systems and you do not have the time or the resources in-house to help these customers, why not join our referral program and get a 10% commission for simply referring the customer to us.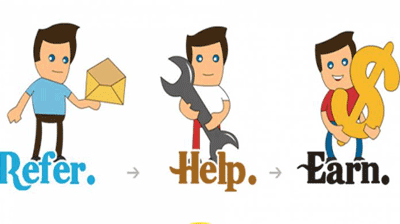 How Does it Work?
When you have a customer contact you for custom development work you just tell the customer that you have a business relationship with Clickalgo.com and you will pass their details to us so we may contact them. If after discussing their requirements we are in a position to help them with their project then we will send them an email with a quote and estimated delivery date.
Once the customer agrees on the quote we will invoice them and when the payment is made to us we will start development work and once the final product delivery is made to the customer we will inform the referrer. We will keep the referrer in the loop with emails throughout the quote and billing stage as well as when the final delivery is complete.
Payment Terms
Clickalgo will pay the referrer every Friday the total sales of the referrer's introductions after the final product has been delivered to the customer. The net pay is calculated at exactly 10% of the total development costs that are charged to the customer. All payment's to the referrer are made directly to their designated bank account and the referrer agrees to pay any fees involved to transfer the money. Payments are made each Friday for all customers that have received the final product and the project is signed off. If in the event there is a refund due to negligence on our behalf then the referrer will still be paid 10%.
** bank transfer charges - we use TransferWise for transferring money into your account and the average cost to transfer £500.00 is just £3.50 **
Our Obligations
We will behave in a professional manner to the referred customers as well as deliver high-quality software.
Termination of Agreement
Any kind of legitimate & official dispute can terminate the contract.
This contract is valid until either party wishes to terminate the agreement by email, any monies due to the referrer should be paid within 7-days of the termination date.
Do You Sign A Contract?
Yes, we have a standard rolling 12-month contract to protect both parties, you can ask us to amend the contract to suit your business model, but this is subject to both parties agreeing.
* Please note that a contract is optional, it is there to protect both parties, but the referrer can opt-out and simply trust that we will pay.
Ready to Join Us?
Please just contact us and tell us you wish to join our referrer program.