This trading software can also be used to provide signals and not open any trades, it will send an email when the two Moving Averages cross, to turn on automatic trading, you just set the value in the general settings below.
General Settings
The general settings for this trading system will allow you to turn on or off automatic trading, position sizing and risk.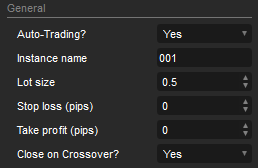 Auto-Trading?
If this is set to YES, it will automatically open and close positions when the two moving averages cross each other, setting it to NO will send email alerts only.
Instance Name
This value should be unique if there are more than one cBot instance with the same symbol, this allows multiple cBot instances to run with the same symbol and different settings.
Stop Loss & Take Profit
If you set the TP or SL to zero then a position will open with no stop loss or take profit attached.
Close on Crossover
This setting decides if a position should close on the opposite crossover signal and if you set this to NO then the trading system will not use the Moving Average indicators to close any positions and they will need to close with either an SL, TP or by the trader manually.
Use Has-Crossed
This setting is very important, the logic to close trades can either use an in-built method called HasCrossAbove or HasCrossedBelow, this does not always trigger a close, but can give very good results, if you wish to use the traditional method of closing trades as soon as the fast-moving average crosses the slow moving average than set this value to NO.
If you load the supplied example settings make sure this parameter is set to No.
Moving Average Indicators (Open Trades)
The two indicators that are used for the moving average cross over signals can be configured individually and they each offer 7 types of MA's, they are used for signals and to open trades.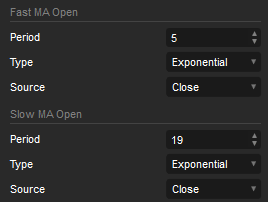 Moving Average Indicators (Close Trades)
The two indicators that are used for the moving average cross over signals which is used to close trades or signal a sell.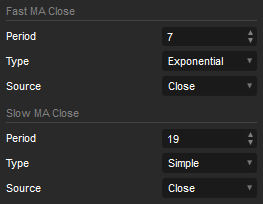 Type of MA
This trading system allows 7 different types of moving averages to be used for the two indicators and they can also be different types, you can select these for both the fast and slow MA.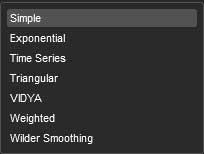 Trailing Stop
This is a standard trailing stop feature that will be activated after the price reaches the trigger value in pips and then follow the price (x) pips (steps) behind until a retracement closes in profit.

Trading Hours
It is possible to configure when the trading robot will be active and trading and if they include trading hours setting is set to YES then the start and stop times will be used.

The trading start and end times use the 24-hour clock.
Notifications
When an MA crossover happens with the settings provided then the system can send a popup window notification as well as an email alert.

Instant Telegram Messages
Telegram messages are one of the faster methods to receive an alert on your mobile phone or desktop and its free.