The first step to allow our products to send you emails via the cTrader platform is to configure your email settings from the platform, this will also apply for sending emails with any cBot or indicator. If you open cTrader you will see a small icon bottom left which will open the settings panel.

Once you have the settings window open, just click on the email settings link as shown below bottom left.
There is a known issue sending emails via cTrader using Gmail accounts, please read the post here.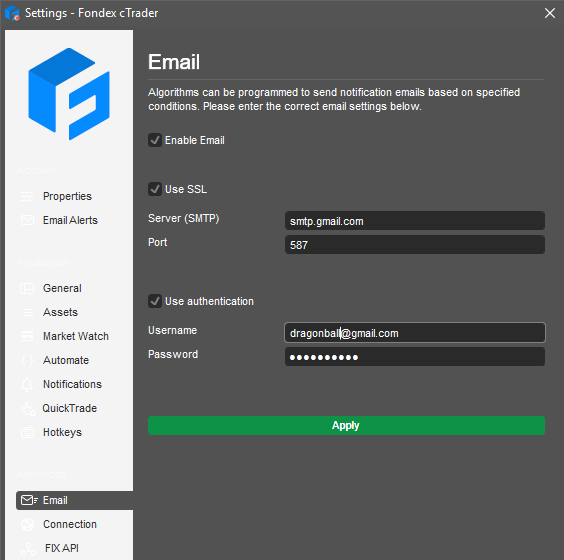 Adding Your Own Settings
Make sure that you use your own username and password when you configure your email and if you are not using Gmail then you will also need to find out your own SMTP server name and port, so just make sure you enter the following information:
If port 587 doesn't work for you try 465.
Username: your Gmail account.
Password: your Gmail password
Make sure Use SSL is ticked.
make sure use authentication is ticked.
Known Issue With Google Accounts
If you have set up your email credentials correctly with the cTrader platform and the emails are failing to be sent with your automated trading system, indicator or trading software then there is a high chance that your email provider is blocking the cTrader application, this blog will help you unblock a GMAIL account.

WARNING
If you are using 2-step authentication in your Google account then you will not be able to send emails via cTrader, it looks like Google have added extra security, we recommend that you use a different email provider to send your emails, most of our products offer telegram alerts, we suggest you use these instead.
How To Test Your Email Settings Are Correct
Once you have configured your email settings in cTrader the simplest way to test if they will work with any cBot, indicator and trading software that you have downloaded is to download and install the cTrader Email Test Tool on this page, just add it to your shopping cart and checkout, it is free to use.
Still Having Difficulties?
If you are still having problems sending an email with our email testing tool then your problem could be something else, we provide plenty of information to help you configure your email with cTrader, but you will need to contact Spotware Support as your issue will be with setting up an email account with the trading platform and not with our products.