If you have purchased our Gold Support Package for our software products then we can log onto your machine and help you, then the easy way to do it is with TeamViewer QuickSupport. All you need to do is download the application from the TeamViewer website and follow the instructions below on how to set it up, the process is very simple.

This service is only available to customers who have purchased our Gold Support Package.
Simple, Easy, Safe & Private
Optimized for instant remote desktop support, this small customer module does not require installation or administrator rights — simply download, and double-click.
TeamViewer has remotely connected more than 1.5 billion devices.

Download the TeamViewer QuickSupport Tool
or
Visit the TeamViewer Website to Download the Support Tool
Once Downloaded - How To Start?
Once you have downloaded the QuickSupport application simply double-click on the file to run, no installation or administration rights are required.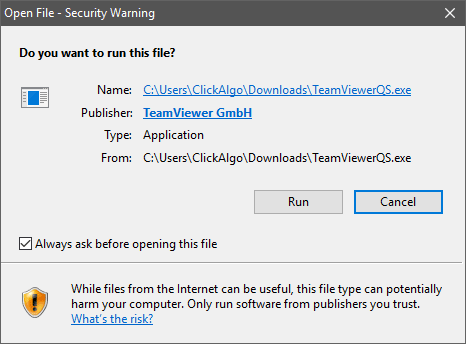 Just click on the Run button to open the program, please note that nothing will be installed on your PC.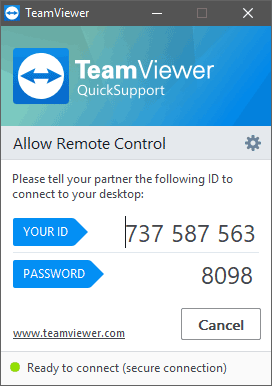 What We Need To Connect
Now to allow us to connect to your PC and offer remote support, you will need to email us the ID and PASSWORD shown in the above image, we will arrange a suitable time to connect to your machine. if you are using a VPS server make sure you are signed out.
Can We Connect To Your Machine AnyTime?
Once we have disconnected from your PC, we will not be able to reconnect with the same ID and PASSWORD, if you wish for us to help you again with remote support, the TeamViewer QuickSupport application will offer new credentials that you will need to send to us. We will not be able to connect to your PC without your permission.
~ PLEASE MAKE SURE YOU HAVE SIGNED OUT OF ANY LIVE TRADING ACCOUNTS AND LOGGED OUT OF ALL YOUR ONLINE WEBSITES ~

You can visit the TeamViewer website and download Team Software here