The cTrader Forex News Calendar Professional application currently supports news events loaded from Myfxbook which covers all the major and minor currency symbols. We plan to add additional news providers in the future including FXStreet. The total time to download the data file in the future once you are set up should only take a few seconds. Just follow the steps below to get started.
1. Myfxbook Economic News Data
The first step is to download the news file from Myfxbook.com in the form of a CSV file, in order to do this you will need to register an account with them which is free.
2. Custom Data Filter
Once you have logged in and you are viewing the Myfxbook economic calendar page you have the option to customise the data that you wish to download by clicking on the Custom button, by default it will give you 1 week's worth of data which is normally fine if you download the file every Sunday, but you can also download up to 3-months worth of data in one go.

3. Download CSV Data File
The last step is to download the news file to your PC, once you have completed step 2 above you will not need to do it again, so next time you just start with this step which should only take a few seconds. Start by clicking on the More button as shown below and leave all the default settings as they are, you can if you want to filter them, but the News Calendar pro application will do it for you, so it is best to load all of the data.
The only step here is to click on the CSV link and the file will be downloaded onto your PC.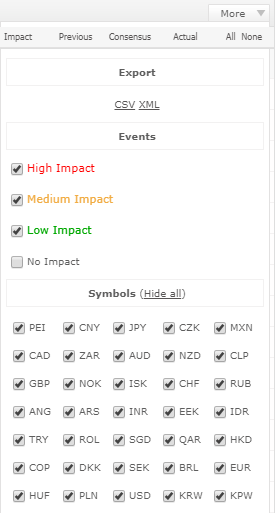 Finally
When you launch the news calendar cBot from a cTrader chart you will not see any news events, you will need to load them into the system by clicking on the Load News button, you just locate the data file that you just downloaded from Myfxbook and select it, you should then see the news data displayed in the grid view.
Common Issues
If you do not have Microsoft Excel installed on your machine you may get an error when you attempt to load the CSV file, if this happens you will need to install the DB Engine from Microsoft.
Incorrect News Event Time
If the time of the news event is showing incorrectly on the chart then you will need to make sure that your Myfxbook timezone is set to your PC's timezone, to do this just visit Myfxbook, login and go to your user settings, click on the Profile tab and set the correct timezone. if you need more help just watch the video tutorial below.
Need Extra Help? Watch a Video Explainer
The video has been uploaded to 1080p High Quality, so do not forget to set your U-Tube video quality to 1080p HD.
Duration: 11-minutes - Watch full screen on YouTube