Using the cTrader Forex News Calendar professional version it is possible to load in 3-months of data which can be filtered on the fly using the grid-view to show the required symbols.

The columns in the above picture show a funnel icon for the symbol, date and impact, these are the data columns that can be filtered, with the symbol it is possible to only select one or more symbols, with the date it is possible to select a date range or only dates for today and for the impact you can select only high impact news.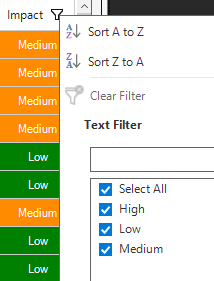 Column Ordering
It is also possible to order any column by clicking on the column header, this is useful to order and group a certain symbol or by date order.
How to Show Historical News
When the news calendar first opens it will only show upcoming news and not news from the past, but it is possible to also show the historical news by ticking on the Show Historical news checkbox.

How Filtering Affects Alerts
Once the data has been filtered, the news calendar will only send alerts and manage automated trading systems with the current data that is now filtered in the grid-view.
How to Reset to Original Data
At any time the original news data can be reloaded by clicking on the Refresh button.
Filtered Upcoming Chart News
It is possible to only display on the chart news items that have also been filtered, the system as default will display all news items for the given symbol for low, medium and high impact. To only show high-impact news releases on the chart you just select the filter for high-impact news events as shown above, once this is applied the upcoming news events lines will change to only show the major red lines.
You can also show or hide the future news events on the chart by simply using the checkbox below.