This section of the user guide helps you understand the various settings for the cTrader Guardian Angel Protection Software where you can configure your Telegram and Email alerts as well as manage memory.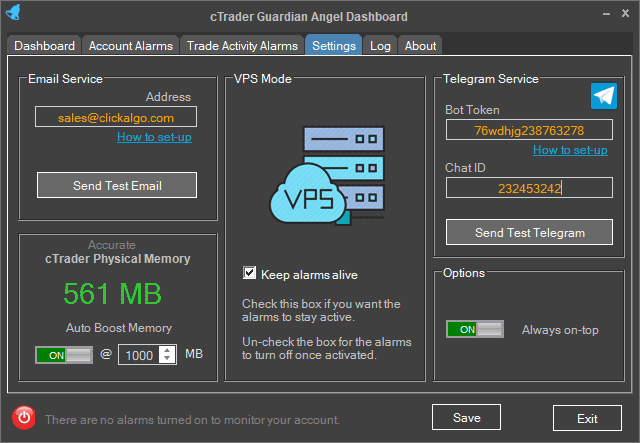 Email Configuration
In order to receive email alerts, you will need to first make sure you have configured your email account with cTrader, read our article on how to configure an email account using cTrader. your next step is to enter the email address you will the alerts to be sent to in the Guardian Angle settings panel as shown above and click on the Send Test Email button, in a few minutes you should receive your email.
Telegram Configuration
This is more complex to set up and you do not need to do anything with the cTrader platform, your first steps are to create a Telegram Bot that will receive the alerts from the Guardian Angel Software and get your Bot Token and Chat ID, just follow the link below for help with doing this.
Memory Booster
The memory booster feature is useful if you are running this software on a VPS server and you are also running automated trading systems, most VPS servers are low specification so they have low RAM, the memory booster will automatically remove unused memory RAM that cTrader is holding on to s that your server will never run out of memory and affect your automated trading robots.
VPS Mode
As a default when an alert is triggered the alert setup is turned off as your target has been reached, but there are occasions when you may when the alerts to never turn off after an event has been triggered, so by checking this box the alarms will always be on.
Options
The Always On Top option will keep the Guardian Angel Window valve and over the top of all other windows, so it will not automatically hide behind another window when you click your mouse away.