When you open a chart that has the indicator added you will see the indicator settings window with a single adjustable setting called Control Position, it will default to TopLeft, this is where the control panel will be located on the chart, you can choose top or bottom left or right to suit your chart setup.

Unfortunately, you will not be able to position it bottom left as this is where cTrader places all the cBot instances on the chart.
Instance Name - Same Symbol Trading
When you start the cTrader cBot you will see the settings window, there is only one value to change and that is the instance name, just make sure that each time you drag and drop the risk & reward cBot onto each chart to give each one a different instance name.
You will only need to do this if you intend to open more than 1 trade per symbol.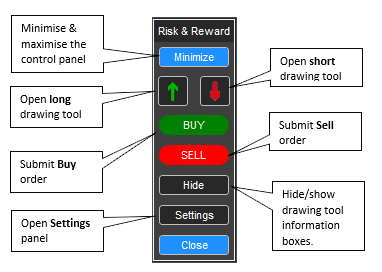 How to Minimise the Control Panel
You may want to hide the control panel so you can see more of the chart, all you need to do is click on the blue Minimize button to show or hide the controls.
How To Remove cBot & Indicator from Chart
You have two options, one is to stop the cBot on the same button the started it, the other is to click on the Close button from the control panel.