You have two options to send pictures, you can capture the entire screen or you can select a snippet area, this would be where you would like to share only a part of the screen, this is useful if you want to show close up detail of your trade setup or market price action. Many traders are members of a trade group which use an instant messaging chat product like Telegram, using this tool you can share your trade setups and provide your team members with instant information to allow them to also benefit from your experience.

Capture Anything on Any Monitor
You can send an image of anything you wish on your desktop monitors, this could be news feeds.
Full-Screen Capture
With the full-screen capture, a complete view of your active window desktop will be sent to your telegram group with an optional message.
Partial Screen Capture & Instant Message
With this tool, you can capture a close up view of your trade setup and share it in less than a second.
~ Double click mouse in captured window to send picture ~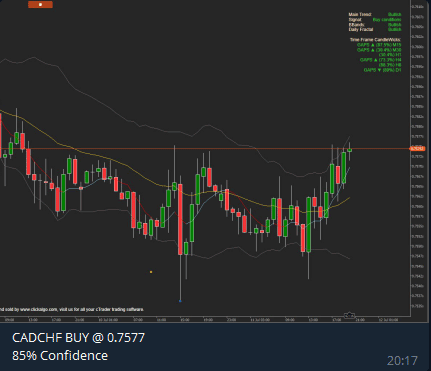 Send Instant Messages
You also have the option to send instant messages without the picture by typing your message and clicking on the "Send Message" button.

How to Test Your Telegram Settings Using this Tool?
The first step is to create a telegram account, once this is done you will have your Bot Token and ChatID.
Download Telegram from Google Play
You can download the app for your mobile phone for free at the Google Play store.
How To Install
When you download the file it will be compressed as a Windows zip file, just unzip it and you will see the MSI installer file, double click on this and the installation will start.
If you see a warning screen just continue and install, we created the file and it is perfectly safe, if in doubt please just contact us to discuss.
Instant Chat Support
If you want a speedy reply to your questions just post your questions on our Telegram chat group.