We are skilled at marketing and promoting customers' products to be visible not just on our website, but in the entire world so that potential customers from all over the globe. We also post on all the major social media sites so your product gets full exposure. On top of all that we also create and publish your product on our website, so you do not even have to write any marketing material, we will do all of this for you.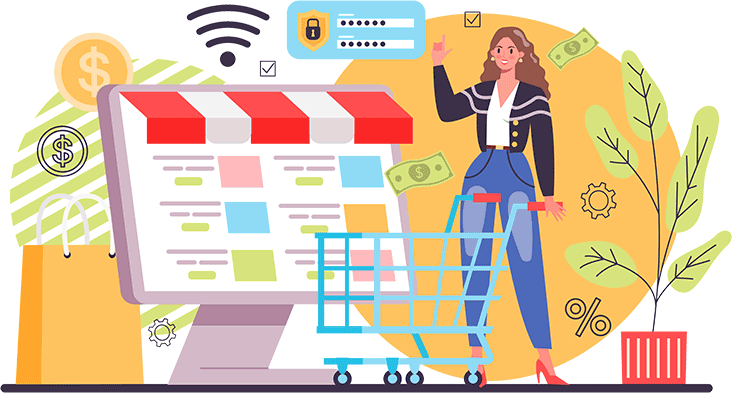 What Is A Vendor Program?
Our vendor program allows a person or company to sell their Indicators & trading software through our web store and benefit from our website visitors as well as our marketing campaigns. This will get your product noticed on the web via major search engines.
What Are The Requirements?
We only accept products that are of high quality and pass our quality assurance (QA) test, if you send us your product without source code and a description of why it is unique we will be able to tell you if we feel it can be sold, a good product will generate good sales.
Why Use Us?
We are the leading software company for the cTrader trading platform and specialists in web marketing to give your product maximum exposure on the web which will increase your chances of a sale, also, our marketplace is a one-stop solution for the customer to purchase on the spot with confidence due to our high-rated Trustpilot reviews and eCommerce website solution.
We can provide a licensing system with a 14-day trial and refund option, this increases your sales considerably.
We also benefit from website search engine marketing, your products will be noticed on Google.
How Much Will This Cost?
The cost of selling your product on our website will be 30% of the total sale. We pay all international transaction fees from the customer which is usually 5% as well as the transaction fee to pay the money into your bank, so you receive exactly 70%
No Set-Up Fee
The price for creating and publishing your product page is free, this includes posting on Spotware.com, Twitter and Facebook.
We will also Search Engine Optimize (SEO) your product page and register it on Google, Bing & Yahoo for maximum exposure.
Regular Weekly Payments
Payments are made on a weekly basis every Friday regardless of the amount via Transferwise or PayPal.
Invoicing
In order to be paid, you need to invoice ClickAlgo Limited on Fridays, we will provide a template for the information if required.
Payment Terms
In order to protect ourselves against customers requesting a refund, we will pay the vendor for sales that were made 14 days or more from the date the invoice was sent to us. This applies to vendors who use our remote licensing system where a 14-day refund option is available.
"We Do All The Marketing & Selling for You"
Product Licensing
We will provide custom license assemblies with instructions for vendors to integrate our licensing system into their products so that they can offer a 14-day trial and 14-day refund option. Customers will always want to test the products before buying.
Do We Sign an Agreement?
When you sign up as a vendor you will automatically agree to our terms of service when you read them and tick a box, this is to protect both parties should there be a dispute at any time. It can also be cancelled at any time by either party with a 7-day notice.
Ready to Join Us?
In order to join the vendor program, you first need to register an account with us.
Please sign-up by clicking on the button bottom right and completing the form.
When a Product Is Sold
As soon as a customer buys a vendor product from our web store they will receive an automated email at the same time the sale was completed.
How Can You Review Your Sales Statistics?
Integrated into your personal portal you can review all the customers who have purchased your products and look at sales data. to access your portal vendors need to login into ClickAlgo.com and reduce the width of the screen until they see an administration link at the top of the page, this will display a personal vendor sales dashboard with sales statistics.