The cTrader Harmonic Bat pattern is a variation of the Gartley pattern which was developed by Scott Carney. The Bat pattern is considered one of the more reliable and accurate patterns showing a higher success rate than any other of the harmonic patterns, this pattern may look similar to a Gartley 222 Butterfly pattern but differs only slightly in terms of the Fibonacci ratios between the swing & pivot points. This pattern also has many well-defined elements that show an excellent Potential Reversal Zone (PRZ).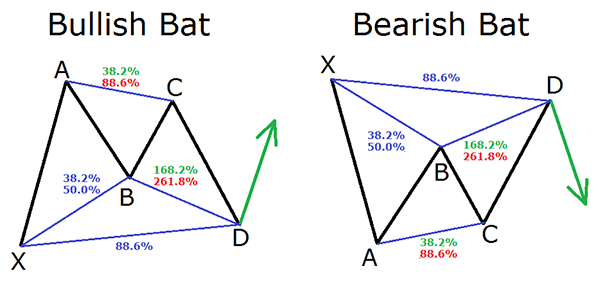 The Harmonic Pattern Bat is made up of 5 swing points, X, A, B, C and D.
Pattern Conditions
AB leg can retrace between 38.2% – 50% of XA leg
BC leg can retrace between 38.2% – 88.6% of AB leg
CD leg can retrace up to 88.6% of XA leg
CD leg can also be an extension of between 1.618% – 2.618% of AB leg
How to Trade using The Bat Pattern
The bat pattern market strategy like any other harmonic pattern is a four-leg reversal pattern that follows specific Fibonacci ratios, The 88.6% Fibonacci ratio gives you a better risk vs reward ratio which is the reason why the bat pattern is such a successful trading strategy. The ultimate entry point is the 88.6% Fibonacci retracement which is a very precise market turning point. In the diagram below we have adjusted the harmonic settings to allow some room for different ratios and as you can see it uses a ratio of 89.4% instead.
The pattern was detected by the cTrader Harmonic Pattern Recognition software and the ratios and pattern accuracy can be modified to detect non-standard pattern formations like the one below. The take profit targets were created using the Fibonacci Retracement Tool that is built into the cTrader trading platform.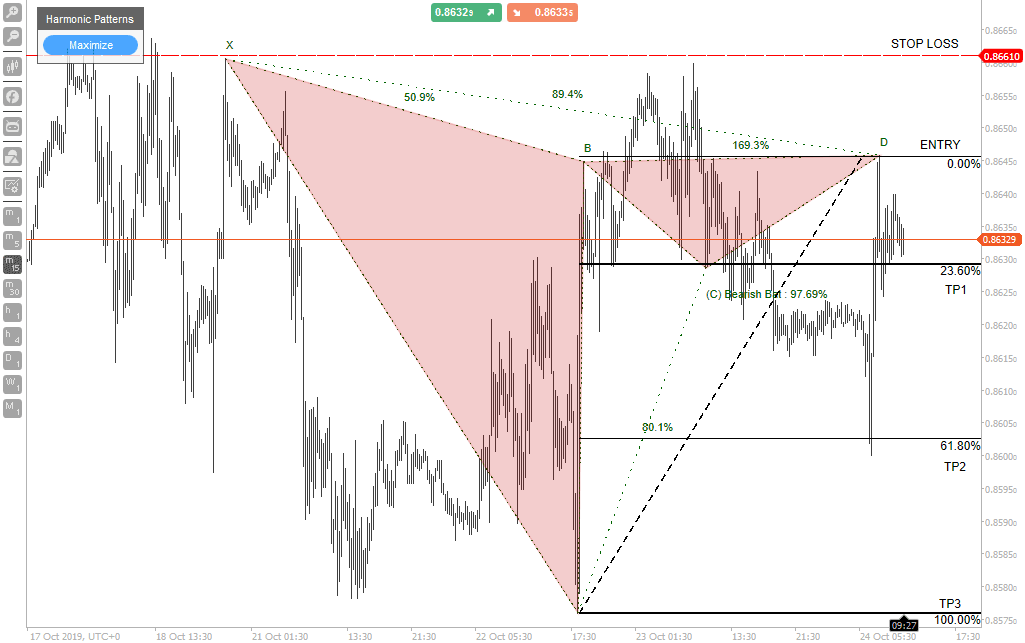 To achieve the above pattern which is non-perfect we adjusted the accuracy to 97.69% and a ratio tolerance of 2%
You may notice that the Gartley 222 and the Bat pattern are nearly the same with some small differences, but traders should not be worried about the type of harmonic pattern that has formed as the stop loss and target levels are the same as trading the Gartley 222 pattern.
Enter Trade
It is best to enter a short position at point D which is the 88.6% Fibonacci retracement.
Stop Loss
Place a stop loss above the X wave.
Take Profit Target #1
The first take profit target should be at the 23.6% retracement at C.
Take Profit Target #2
The 2nd take profit target should be placed at the golden ratio if 61.8%
Take Profit Target #3
A 3rd take profit target can be placed ay 100% retracement at A.
Harmonic Pattern Trading
An advanced trading method like harmonic trading uses pure price action which has a determined system for price pattern recognition and Fibonacci techniques which cover the Harmonic Trading approach.