Snipping Tool is not enabled by default in Windows Server 2012 R2. To install Snipping Tool, just follow the next instructions: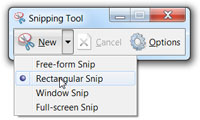 Go to Server Manager.
Click Manage in the upper right corner.
Click Add Roles and Features.
Click Next > Next > Next.
At Server Selection select your server.
Click Next > Next.
At Features expand User Interfaces and Infrastructure.
Check Desktop Experience.
If an Add Roles and Features Wizard window pop up with a list of features required for Desktop Experience, just click Add Features.
Click Next > Install.
Restart your server.