This article will show you how you can share a picture or send a message of your trade setup to a Telegram channel.
Why Would you Want to Share Trade Pictures?
They say a picture paints a thousand words, imagine you are in a trade group and you are all using an instant messaging application like Telegram where it can be installed on your phone, a computer is anywhere you have internet access. If one of your team members has the perfect trade setup that works for them and they see all the signals to enter a trade, rather than just telling his team members or friend to Buy or Sell, they can now with a click of a mouse send a close-up view of their setup complete with a message within a second to everyone.
Example Picture Sent to a Telegram Group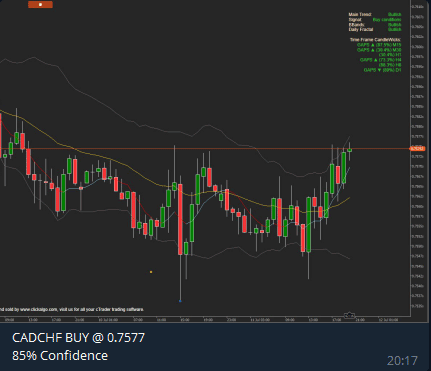 What is the Telegram Messaging Service?
Telegram is a multi-platform messaging service founded by Russian entrepreneur Pavel Durov. It rolled out for Android in Alpha on October 20, 2013, and now has an estimated 200 million monthly users and is now very popular amongst the trading community. Telegram's best feature is privacy which uses end-to-end encryption. This is what stops those outside a two-way conversation — be it a company, the government, hackers, or someone else — from seeing what has been sent.
Your first step if you do not have a Telegram account is to create one, just visit the Telegram Home page
How You Can Send Trade Pictures to Telegram
We have created a tool called the cTrader Telegram Chart Signal Tool that will allow a trader to either send full-screen images or partial close-up pictures of the trade action to a Telegram channel in less than a second.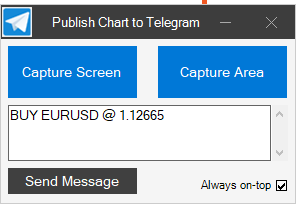 How to Send An Automated Chart Pictures to Telegram
A Picture Paints a 1000 Words. This is never so true when used with trading the markets, it is ok to look at numbers, but a visual view of the data is so much faster and your brain can process information at a much quicker rate, this is why sending a picture together with information about a new trade opening is so powerful and will help you reduce your potential losses.
THIS PRODUCT WILL SEND AN AUTOMATED PREDEFINED PICTURE TO TELEGRAM WHEN A POSITION OPENS OR CLOSES