Money managers and other partners have encountered challenges when it comes to remotely accessing individual accounts for the purpose of manual or automated trading on behalf of a third party. Account owners who have granted access to a partner would also like the ability to monitor transactions in real-time and have the option to withdraw the shared access.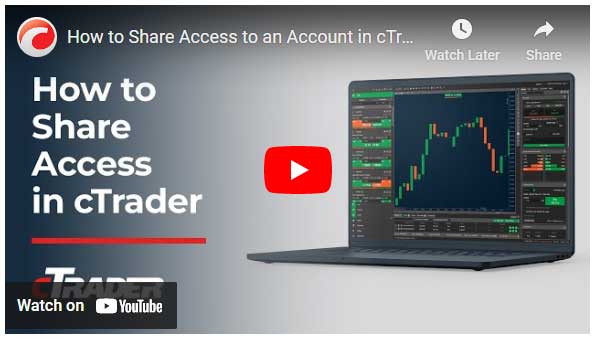 Advantages of Sharing Access
Trading remotely, whether manually or automated, is made possible through a third-party account and as a money manager, you are given the authorization to access this account upon receiving a new cTrader account, you have the ability to fully utilize its features, with the exception of depositing and withdrawing funds.
Easy accessibility is ensured across all platforms, including desktop, web, and mobile, through the shared access feature and this functionality allows stakeholders to conveniently share or revoke or reject access directly from their preferred device.
As the owner of a cTrader account, you have the ability to delegate trading responsibilities to highly skilled partners without worrying about losing your own access and transparency and at any given moment you can revoke access.
How to Share Access
Spotware has written a very good guide on how you can set up cTrader for shared access, it also covers revoking or rejecting access should you wish to change your mind at a later date.
Need Additional Help?
If you need other help using the cTrader platform or our marketplace products at ClickAlgo, just visit our help centre.