As many of our products use the Telegram service for sending messages we also provide a status page where you can see if the service is down and your messages are not being sent, this is very rare but good to know when the problem is not with your cBot or indicator, but the service instead.
Telegram Status Sites
There are a few sites that offer a telegram status page and below are the best ones we could find, if you find more or have some feedback on them please comment below.

Down Detector - Most popular with over 5K comments
This has an option to post a problem, view all outages in the last 24-hours, the location of the outages and also the type of connection issues.
We like this one as it is the most detailed report for Telegram showing historical outages.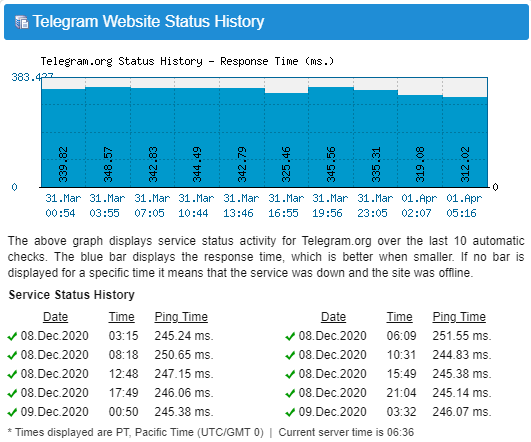 Telegram Twitter
You can also look at the official Telegram Twitter page for updates on the current service status.
Troubleshooting Issues Accessing Telegram
If you are having issues connecting to Telegram Web or Windows try one of the solutions below.
Web Browser Problem
Press F5 to force a web page refresh.
Clear your cache and cookies for the site you are having issues accessing.
DNS Problems
A DNS is a short name for Domain Name System which allows a site IP address to be identified with words, so 192.168.1.2 could be clickalgo.com, this service is usually provided by your ISP. Try one of the following to fix your issue.