The cTrader trading platform has an in-built feature to attached advanced protection to an order which is already open, but not new orders as it is submitted or when a pending order becomes a market order.
Standard cTrader Advanced Protection
The standard cTrader advanced protection feature for existing positions allows the trader to set up to 5 different take profits and a server-side break-even, stop loss and take profit, but for the take profit targets, the platform must remain open and connected to the internet.
cTrader must be running and connected to the internet for Advanced Stop Loss and Advanced Take Profit to work properly.
Stop Loss will be moved to break-even (covering also Commissions) when spot price has moved this distance from the entry price.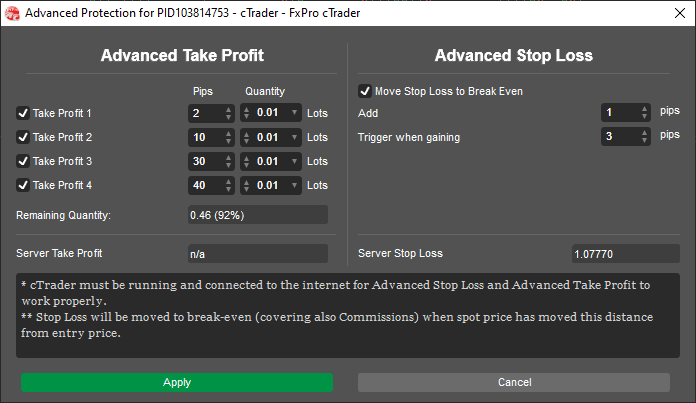 Our Advanced Protection Tools
We have created the same advanced protection that is built into the trading platform, but the main difference is that our tools will apply the protection to pending orders, orders created by automated trading systems or any market order that is created.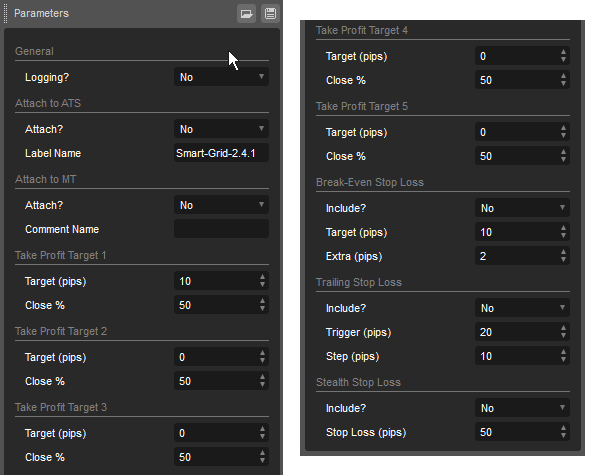 cTrader Advanced Scalping Tools
We also have a collection of software tools to allow traders to manage their open positions with a quick click on the mouse.
Watch a Video Explainer
We have recorded a hands-on tutorial on how to use the client API with your trading system.
Duration: 10-minutes - Watch full screen on YouTube