Montroll was arrested Wednesday, according to the U.S. Attorney's Office Southern District of New York.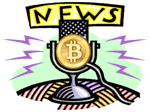 The charges against Jon Montroll, also known as "Ukyo," were unveiled today by the U.S. Justice Department following an investigation that involved the Federal Bureau of Investigation (FBI) and the Securities and Exchange Commission (SEC). The SEC is pursuing civil charges against Montroll in a separate action, alleging that he operated an unlicensed securities exchange and defrauded investors.
The owner of BitFunder, a long-defunct, bitcoin-denominated stock exchange, has been arrested by the U.S. government.
As laid out in the Department of Justice's complaint, BitFunder was the target of a hacking effort that enabled those behind the attack to credit themselves funds. This resulted in the withdrawal of roughly 6,000 bitcoins from WeExchange, rendering the services insolvent.
Prosecutors allege that, in November 2013, Montroll "provided sworn testimony to the SEC's New York Regional Office in connection with their investigation into the Exploit and BitFunder's activities." As part of that testimony, he submitted a balance statement which reflected "the total number of bitcoins available to BitFunder users in the WeExchange Wallet as of October 13, 2013" that amounted to roughly 6,700 BTC.