We will help you find a suitable Forex broker and show you how to apply for a cTrader demo account to download the trading platform so you can start today. This is one of the most common questions asked by new traders who have started using cTrader and opening a demo account to start your practice trading is very simple. Firstly, we will explain what is a broker and what is the cTrader trading platform and how they work together.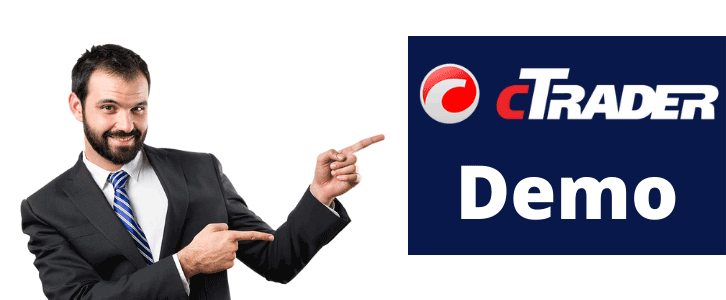 What is cTrader?
cTrader is software that you can run on your PC or mobile phone as a trading platform, it was created by Spotware that has been built to allow you to trade manually or automated.
Open a Demo Account Now
When you are ready to start paper trading with a risk-free demo account with the best Forex broker for the cTrader platform?
What is a Broker?
A broker is a company that provides traders access to a platform for buying and selling foreign currencies, cryptocurrencies, stocks, metals, indices and other instruments.
The broker is the link between the trader and the network of banks that have access to market liquidity.
The cTrader brokers give you access to foreign exchange trading and the leverage to trade.
Which Symbols Can be Traded?
This will help traders find their favourite symbol to trade using cTrader by choosing the correct broker.
What is a Raw Spread Account
When start trading using a Raw Spread account you will have the best possible conditions the market has to offer since there is no markup price, and you enter a trade at the actual price you have set due to a zero a very small spread.
How to Open Demo Account?
We advise that all new traders do not start trading with live money until they understand the markets and have a trading system in place that allows a consistent return of profits. A demo account allows you to learn how to trade for free.
How to Create a Demo Account?
Now that you understand the difference between the trading software (cTrader) and a broker that allows your orders to be placed with the banks, your next step is to understand how to open a demo account to start your practice trading. All brokers offer the ability to open a demo account with just your name and email address, so it's very simple.
How to Open a Live Account
When you are ready to trade with real money, opening a live account with a broker is like opening a bank account as it requires paperwork and steps that involve identity verification and the whole process usually takes 24-48 hours depending on the broker.
How to Choose the
Right Broker
We have put together a complete list of cTrader brokers to help traders sign-up with the most reliable ones with great customer service and fees.
Download cTrader
Once you have decided which broker you wish to use, you simply sign up for a demo account which takes a few minutes and you will be provided with links on the broker's website where you can download their version of cTrader Windows, Web or mobile.
An example would be that you sign up with IC Markets and you will download the IC Markets branded version of cTrader and when you submit orders, these orders will be sent to IC Markets who are now your broker.
Need Extra Help? Watch this video
Download Multi-Broker cTrader
If you want to download and give cTrader a try without signing up for a demo account with any broker.