This is an automated Harmonic Scanner for the cTrader platform that will draw onto your charts patterns for trade signals as they happen, This indicator contains the following patterns: Bat, Gartley, Crab, Butterfly, Cypher and Shark.
The free version is fully functional apart from the alerts and pattern accuracy up to 97%, the alerts are very useful as they will send you an email, Telegram or SMS text message as soon as the pattern forms, if you can live without these alerts then the free version is a good tool to use.
Fibonacci Retracement & Harmonic Pattern
The chart below shows a bullish shark pattern that was automatically identified for the EURUSD Forex symbol, we then used the cTrader Fibonacci Retracement tool to draw custom price retracement levels for the entry price, stop loss and take profit targets.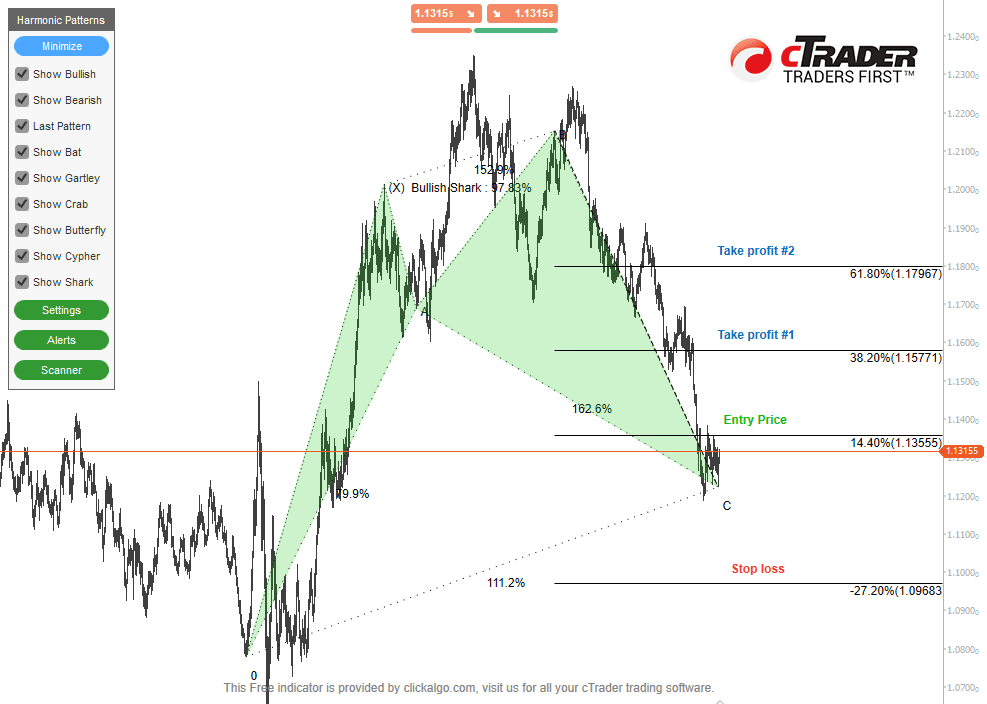 How to Download the Harmonic Scanner?
If you would like to download the free cTrader harmonic scanner just visit the link below and click on the buy button, go through the checkout process, you do not need to pay anything as the product is Free for life.
Why Use the cTrader Platform
If you are unfamiliar with cTrader or you use another trading platform like MT4 or TradingView then I highly recommend that you start looking at using the cTrader platform instead.
Watch a Video Demo
We have recorded a hands-on tutorial on how to use risk management tools correctly.