The cTrader Harmonic Shark pattern was discovered in 2011 by Scott Carney which has a combination of a failed wave, the Shark Pattern it is an extreme harmonic impulse wave using the famous 0.886 retracements. It is slightly similar to the crab pattern, but the shark pattern uses 0, X, A, B, C swing points to name the pivot & swing legs and is also known as a 5-0 pattern.

Shark Pattern Characteristics:
B point needs to be a minimum 113% but NOT exceed 161.8% of XA projection
C point needs to be a minimum 161.8% but NOT exceed 224% of AB projection
C point at 0.886 0X (not 0B) retracement of 1.13 0X projection.
Entry is at 88.6% of OX leg with stops coming in at point C
Targets can be the golden ratio of 61.8% of the BC leg.
The main difference between the Harmonic Shark and other patterns is that it relies on 88.6% and 113% reciprocal ratios.
Shark Pattern Example
The cTrader harmonic Shark pattern separates itself from the other harmonic patterns is by its five points setup being labelled as O, X, A, B, C and the termination point of leg B ends above wave X which extends to a minimum of 1.13 and a maximum of 1.618 Fibonacci ratios.
A shark pattern trading strategy will work extremely well as a strong counter-trend strategy and you can also learn pretty much fast if the shark harmonic pattern will work or not because it requires immediate price reversal following the chart pattern completion.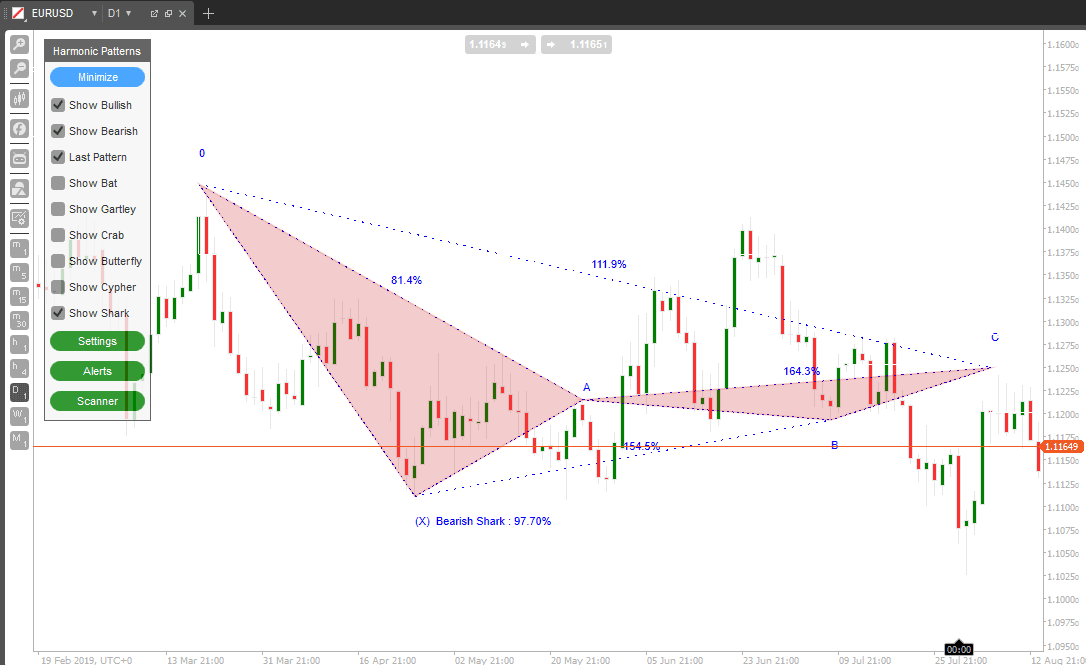 The Shark pattern shown in the chart below was created by the cTrader Harmonic Pattern Recognition Software which automatically scans the markets for these type of patterns, also we used the Fibonacci Retracement Tool to identify the take profit targets in the Potential Reversal Zone (PRZ).
Harmonic Pattern Trading
An advanced trading method like harmonic trading uses pure price action which has a determined system for price pattern recognition and Fibonacci techniques which cover the Harmonic Trading approach.