Backtesting is the process of simulating a trading strategy using historical data.
Now you can test your automated strategies (cBots) with over 300% more historical data on a whole variety of symbols.
Enhance Your Trading With Data-Driven Decisions
With a large amount of historical data for a given symbol, you will have much more of an understanding of how your robot will manage market conditions going back many years.

Historical Backtest Data
Finding good Forex data can be very difficult or expensive. Dukascopy has made available an excellent widget shown below to download data for a large a variety of Forex, CFD and commodities. We are using the data widget to download free data to be used with the cTrader Data Converter Application, it would be rude not to advertise their company and product while at the same time using their data.
You can visit the Ducascopy website here.
How To Download The Data Using The Widget Above?
To be able to convert the data that you download from the Ducascopy widget above and to load it into the cAlgo trading platform for backtesting will require a few simple steps, we have explained below the best we can to help you get up and running as easily as possible, there is also a video to watch at the bottom for that extra help from us.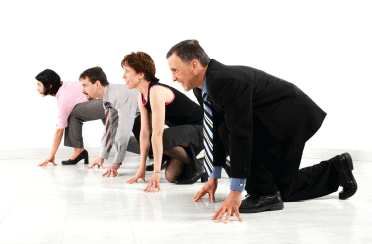 Follow These Simple Steps...
Before you start you will need to download the cTrader Historical Data Converter from our web-store, we offer both limited and paid versions, you will need this software to be able to convert the Ducascopy data into a format that can be imported into cAlgo for backtesting. If you would like to watch a video demonstration explaining all the steps to import the data into cAlgo just scroll to the bottom of the page where you will find a YouTube video.
Step 1.
Select your symbol from the Ducascopy widget above, you can search for an instrument by simply clicking on the word instrument below the Ducascopy logo.
Choose the 1 Minute Timeframe and choose if you want Bid or Ask prices, cAlgo can only import 1-minute data.

Step 2.
Choose your dates for the historical data.
It is highly recommended that you only download a maximum of 2 years worth of data at a time due to memory and internet issues, each file will be about 65 Mb in size.
When you use the conversion software you will be able to merge all the data files into a single historical data file to be used with cAlgo.
MAKE SURE THE START DATE IS 1-DAY AFTER THE END DATE OF THE PREVIOUS FILE
SO, 2004.01.01 - 2006.01.01 AND THE NEXT FILE IS 2006.01.02 - 2008.01.01
MOST FOREX STARTS IN 2004 WHICH GIVES YOU 15 YEARS OF HISTORICAL DATA

Step 3.
"Filter Flats"
Choose how you want to handle when the data is flat and also make sure that you set the day start time to UTC.

Step 4.
Register With Ducascopy
Just register with your username, email and password, you do not need to add your phone number, this registration process is just to give you access to the data. Once you are registered, try again to download the historical data. You do not need to download their software or take out any trading accounts, this is just to let you download their data.
Step 5.
"Downloading Data"
When you click on the download button you will see the following image, if you have selected more than 2 years worth of data the browser may freeze.
Make sure you select the same settings as below:


Common Problems
A common problem you will encounter is setting the date from date too far back and Ducascopy does not have this data if this occurs then you will see the following alert pop-up. All you need to do is just set another date further in the future, you can start by each month or year until you know the date the historical data starts.
Sometimes this alert occurs but the data still loads, so play around with it.

Last Step
Once the data has been processed you will now be able to download it, click on the save as .csv as shown below and the file will be saved to your PC.
Please note they will be a delay between clicking the save-as button and the download to appear as the file size can be very large.
To start with another symbol, just click on the reset button.

How To Convert the Files to Work With cAlgo's Backtesting Feature
Once you have the file downloaded the next step is to use the cTrader Historical Data Converter application to convert all the data into a format that can be imported into cAlgo for backtesting. You can download the software by clicking on the link below.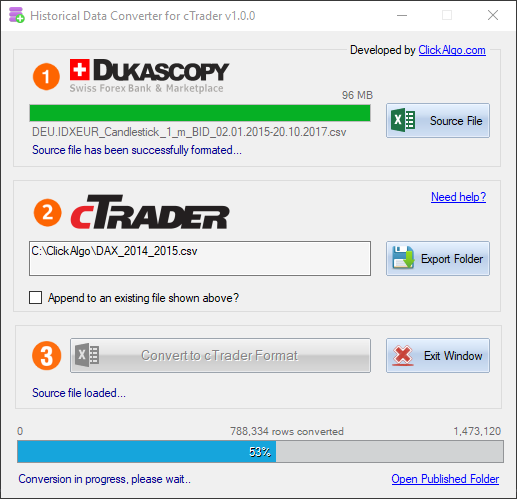 Download The cTrader Historical Data Converter
* Free limited version available
How To Import The Data Into cAlgo?
If you have just downloaded the file above and want to run it as a backtest using the cAlgo trading platform just click on the link below to find out how.
Watch A Video Demonstration
"To watch the videos full screen, just start playing the video and click on the bottom right icon"
The video has been uploaded to 1080p High Quality, so do not forget to set your U-Tube video quality to 1080p HD.
The Importance of Backtesting & Forward Testing Correlation
Traders who are very excited to try a trading idea in a live market often make the same mistake of relying entirely on their backtesting results to determine whether the system will be profitable or not. While backtesting can provide traders with valuable information, it is often misleading and it is only one part of the evaluation process. Out-of-sample testing and forward performance testing provide further confirmation regarding a system's effectiveness and can show a system's true colours before real cash is on the line. A good correlation between backtesting, out-of-sample and forward performance testing results is vital for determining the viability of a trading system.