The company Stocktwits is one of the largest social network tools available for investors and traders, they have over two million registered community members, they were founded in 2008 and have achieved their mission to connect regular investors and traders together. We have packaged it up into a cTrader Add-On cBot that you can launch directly from your trading platform and place it anywhere on the chart, it uses minimal screen space and allows the trader to see the most important tweets with a quick glance of the eye.
A Stocktwits cTrader Widget is a social network tool powered by Stocktwits and built for traders to share their thoughts on current and future market conditions, both experienced and new investors work together by sharing market predictions.
cTrader Stocktwits Add-On cBot
This tool will only run on the cTrader trading platform and runs as a cBot, it will refresh the screen every 60 seconds so the trader will always have the latest tweets, this tool will allow the symbol to be changed as well as viewing any user's tweets only.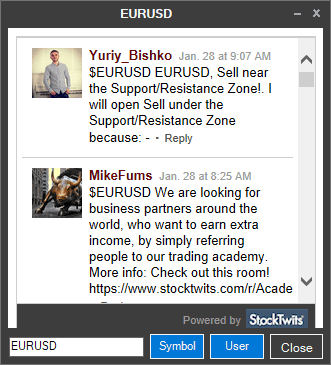 Powered by Stocktwits
How to Use the Stocktwits Add-On
To use this widget is very simple you can filter the tweets by symbol name or user, there are 25 tweets loaded for you to scroll down and the latest tweet is shown on the top, to change the symbol just type the symbol name in the box shown above and click on the symbol button, to filter by user just enter the user name and click on the user button. An example user name shown above is MikeFums.