Trendlines are one of the most popular drawing tools used by professional traders using cTrader to help identify price breakouts and price bounces, the main problem is that when there is an identifiable trend on an asset overt the chosen timeframe, the trader has to first draw a trend line on the highest highs or lowest lows and wait until the price breaks above or below these values for the signal of a possible price reversal. This could take many hours, days or even weeks if the timeframe is high, things get more complex if many trendlines are drawn on different symbols and or timeframes.
The Trend is your Friend
You may have heard the saying trend is your friend many times in your trading career, this is very true and the ability to identify a trend early on or as it reverses is very important, this is where trendlines help the trader.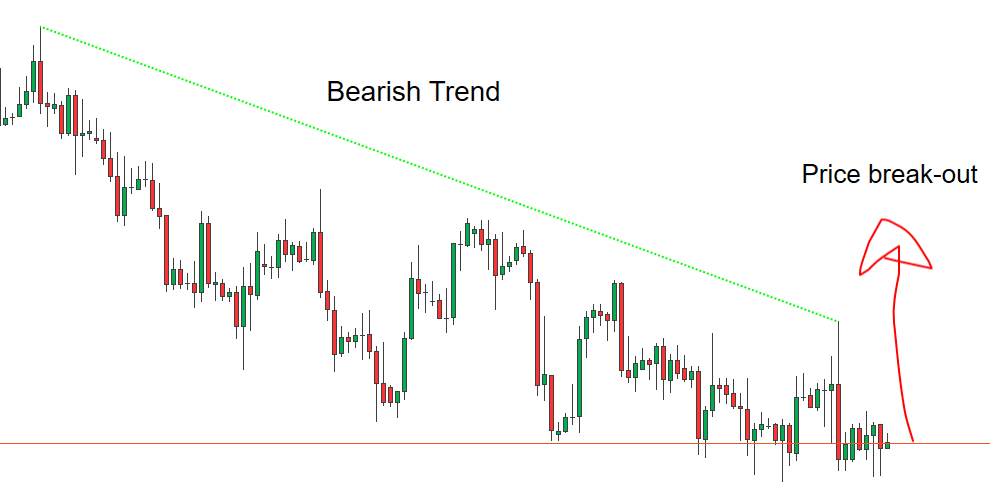 The chart picture above is a good example of a 4-hour timeframe on the EURUSD where 2 high points have been identified on a bearish trend, the price at both times failed to ho higher and you can also see the longer wicks during the candlestick formation that shows the macro battle that happened between the buyers and the sellers and the buyers lost both times.
When not to Draw Trendlines
If you cannot see high or low points and an identifiable trend like above, do not try and force drawing a trendline as there is no trend in progress, there are 3 types of trends that can be used.
Downtrend.
Uptrend.
Sideways ranging price.
Common Trendline Issues
A big problem using trendlines on a chart is that you need to wait and look at the chart until there is a breakout which can take days on higher timeframes, to overcome this limitation you need a trendline indicator with alerts that will send a pop-up message on the computer screen or send an instant message to your mobile phone in the event you are away from your trading desk.
Trendline Indicators with Alerts
It is always better to find a trendline indicator that will send you alerts, the cTrader trading platform has a few variations, most of them will send both email and instant Telegram alerts, you can find one of the links below.
Watch a Video Demonstration
The following video will demonstrate how to use a trendline indicator with alerts.
Duration: 7-minutes - Watch the Video on YouTube