If you are looking for a cTrader developer you can trust then ClickAlgo.com is a verified partner for creating high-quality trading tools. We are one of a few companies offering services for traders who use the trading platform.
Why we are Different
One of the biggest differences between ClickAlgo and other companies or individual developers is that we have built trust in the marketplace through our real online reviews, the cTrader community and the number of years we have been providing solutions for traders. All of our products are safe to download and install and we also offer excellent support via our instant chat group where you can usually get an answer within minutes.
Trusted cTrader Partner
What this means is that Spotware the company that created the cTrader trading platform has recognised ClickAlgo as a company you can trust to help you with building your custom indicators and automated trading systems as well as download hundreds of trading tools from our marketplace.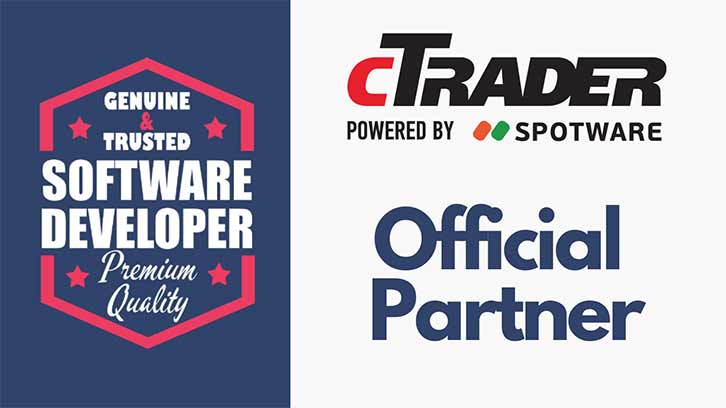 Why You Can Trust Us
We have spent many years building our reputation so that new and experienced traders can feel confident when using our services, we admit that along the way we have made a few mistakes, but through these mistakes, we have grown stronger and adjusted our business so that we can offer an even better service in the future. We provide unbiased real-online reviews via TrustPilot and offer support so that your questions are always answered, you can contact us via our Telegram support group, email or telephone.
Why Choose Us for Coding?
If you need someone to build your trading software then we are here to help you, your project is managed by professional developers and we have over 6-years of experience working with cTrader delivering over 1000 projects.
Our Social Media Channels
We offer various social media channels to help our customers.