Hotkeys are used with the cTrader platform as shortcuts to quickly change the layout of the screen, navigate charts and interact with other chart and trading features.. traders also have the option to configure their own hotkey shortcuts by changing them in the platform settings and choosing hotkeys. you will find all the hotkey shortcuts on your computer keyboard.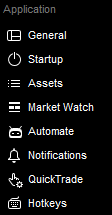 How to Change Hotkeys?
From the settings panel on the left-hand side and at the bottom you will see the Hotkeys option, once open you can change any of the existing key shortcuts by clicking on the existing value and you will see an updated text showing "Press", this is asking you to press any key on the keyboard that you want to use for the shortcut.
General Hotkeys
These are probably the most used hotkeys to interact with the platform and charts. It works by mapping your keyboard keystrokes to the hotkey shortcuts as shown below.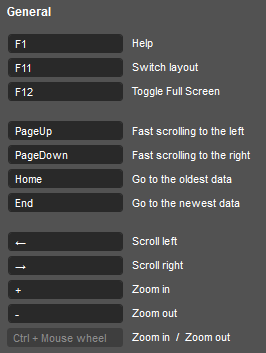 In the general section, there are some of the most useful shortcuts and these are F1, F11 and F12, the F11 hotkey will toggle the layout of the screen to suit your trading style.
Quick Zoom on Charts
The ability to zoom the charts in and out can be done by holding the Ctrl key down and moving your mouse wheel, this is fast and we find very useful.
Video Tutorial
This is part 12. of the video series tutorials to help you learn how to set up your hotkey shortcuts.
* Video length: 5-minutes
Complete cTrader Video Tutorials
If you are fairly new to the cTrader platform we have an online user guide and hands-on video tutorials to help you.