Learn how to use the cTrader Trading Platform with a hands-on video tutorial, now you can harness the full power of the platform to boost your trading. We have created many short videos which explain how to use different parts of the platform, so you can choose the video that you require to help you.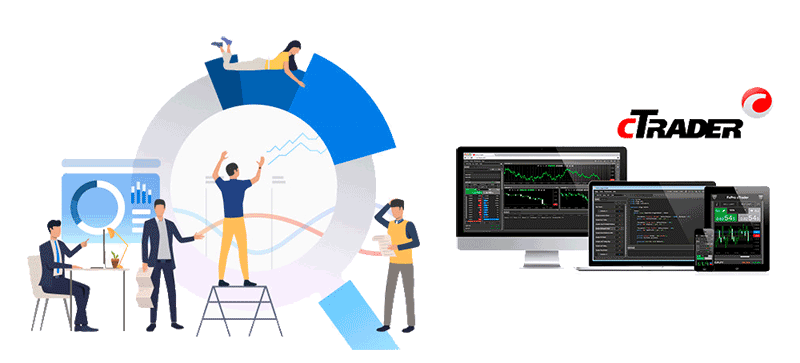 Our cTrader Video Tutorial Channel
We have a growing YouTube community to help educate traders for free, you will be directed to YouTube where you can watch them, we recommend that you subscribe to our channel to keep informed when we release new ones. Please give us a thumbs-up as this help us create more free stuff.
Our YouTube Channel Home Page
We have many educational and hands-on product videos on our YouTube Channel, visit us and subscribe to be updated when we publish new videos.
cTrader 4.2
There have been some great improvements in the release of cTrader Desktop 4.2 that include an update from NET 4 to NET 6 as well as the use of more IDE coding tools and optimization module features.
Version 4.1
This minor update now allows your trading account to be funded using a cryptocurrency like Bitcoin.
Version 4.0
You can find out how to use the latest features in the new release of cTrader which was published in January 2021.
How to Get Started
If you are completely new to the cTrader trading platform then you would want to start here.
Install cTrader & Find a Broker
This video will help you get started in finding a broker to open a demo account and install the beta version of cTrader with no broker.
cTrader Broker Symbols
This will help traders find their favourite symbol to trade using cTrader by choosing the correct broker.
How to Manage Your Account Settings
Find out how to change your cTrader Cloud Credentials, Notifications, Active sessions, Trading Accounts, open API and Cloud Charts.
cTrader Overview
Our cTrader Video Tutorial course starts with an overview of the trading platform.

Interface Configuration
All features allow you to configure the cTrader user interface to suit your taste.
Mastering Watchlists
Watchlists allow you to group symbols for easy access while trading and learning the full features.
Creating Price Alerts
You can also receive a price alert in the form of an audible sound, pop-up message and email notification.
Applying Themes & Templates
You can apply a theme for your charting by changing the colour to suit your eyes as well as creating reusable templates with your charting objects.
Hot Keys
You can use and configure hotkeys and keyboard shortcuts for the trading platform, this can significantly improve the speed and comfort of trading.
Platform Settings Explained
You can manage your email, trade and notification settings using the cTraders Settings panel.

Trading Features
The complete list of trading features for cTrader.
Submitting Market & Pending Orders
There are four types of orders to buy or sell the assets in cTrader: Market Order, Limit Order, Stop Order and Stop Limit Order.
Modifying Market & Pending Orders
Once you have an open position or placed a pending order it is possible to modify them as the market conditions change.
Trading Central Price Targets
Trading Central is a research company that provides market analysis for the cTrader platform in the form of potential price targets for the trader.
Depth of Market
One of the most distinguishing features of cTrader is the Depth of Market capabilities order book as it is also known.
TradeWatch Panel
The cTrader TradeWatch Panel allows the trader to view and manage open positions, pending orders, trade history and the trade activity log.
Economic News Calendar
The FXStreet economic calendar has been integrated into the cTrader platform to allow traders to see all the high-impact news events.

Charting Features
The complete list of charting features for cTrader.
Arranging Your cTrader Charts
This hands-on video will demonstrate how to adjust your chart mode from single, multi, or free-multi charts modes.
Linking Your Charts Together
Chart linking will allow you to link the same symbol charts together, each with indicators and drawing tools attached and apply a new symbol.
Using The Drawing Toolbar
This video will help you understand how to use all the drawing tools that you can drag onto a chart.
Finding Your Indicators
The platform has the standard indicators that are installed as default, but there are 1000's very useful 3rd party indicators that can be installed.
Managing Your Indicators & cBots
We will show you how you can add and remove your indicators and cBots from the chart.
Autochartist Integration
Autochartist is integrated into the platform and uses big data to provide analysis in the form of price & Fibonacci patterns.
Managing Drawing Objects
Version 3.8 of cTrader released some very useful new features for managing your drawing objects & indicators.
cTrader User Guide
We also have a user guide located on our knowledge base with additional information to help you.

Learn cTrader Automate - User Guide
We also have a complete series of videos to help traders learn how to use the algorithmic trading features of the platform.
Support Us & Leave a Review
We recorded these video tutorials to help traders learn how to use cTrader, please support us by leaving a review on Trustpilot.