Trading Central is a research company that provides market analysis for the cTrader platform in the form of potential price targets for the trader where the markets may reverse. In January 2016 Trading Central integrated its technical research data into the cTrader trading platform for both the desktop and web versions.

What Are Price Targets?
The Trading Central price targets feature show the target price and direction where the price may be heading, this is taken from technical analysis. On May 24th 2018, Trading Central's Technical Insight was awarded the "Best Specialist Award" at the Technical Analyst Awards.
How Are They Used With cTrader?
The cTrader trading platform has a charting feature in the viewing options that you can turn on or off called Targets and if this is selected you may see on the chart a potential target price to place your take profit or stop loss. To see your viewing options just right-click your mouse on the chart.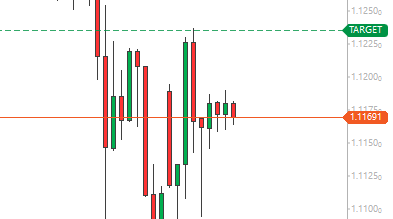 The Target line you can see in the image above will show you Trading Central's technical insight as to where they feel the price will reach before there is a retracement, so a good place to start closing your positions. You can have Targeted for each timeframe depending on what period you are trading and you can also compare them on multiple timeframes for a strong signal.
If you hover your mouse over the Target label as shown above you will see a popup window with trading options as shown below.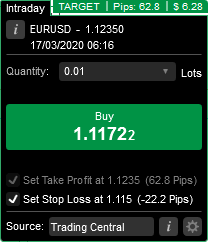 Trading Central will automatically offer you a trade setup including both take profit and a stop loss to use while using the popup window above you can quickly submit an order, once the order is submitted it is possible to adjust your SL and TP.
Trade Panel Settings
The Trading Central Panel will allow the trader to analyse potential targets and place an order.
Quantity: Your position size in Lots.
Buy & Sell Button: This will allow you to submit an order using the recommended trade setup with SL and TP.
Take Profit: This is the take profit target for the trade idea.
Stop Loss: This is the resistance level price from Trading Centrals analysis and suggested Stop Loss price.
Cog Settings Icon: You can remove the support and resistance lines to show only target prices.
Info Icon in the top left
Hover your mouse over this to see the complete information about the trading idea you are being shown.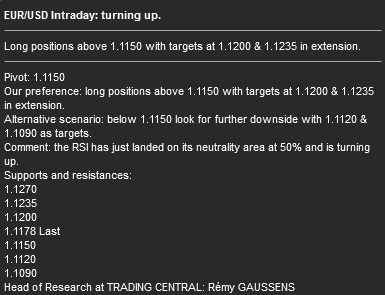 Trade Panel Settings
A useful feature of this Trading Central plugin is the ability to show all the support and resistance lines, this can be achieved from the Cog Icon which can be found bottom right of the panel which makes it a very powerful tool to use while trading.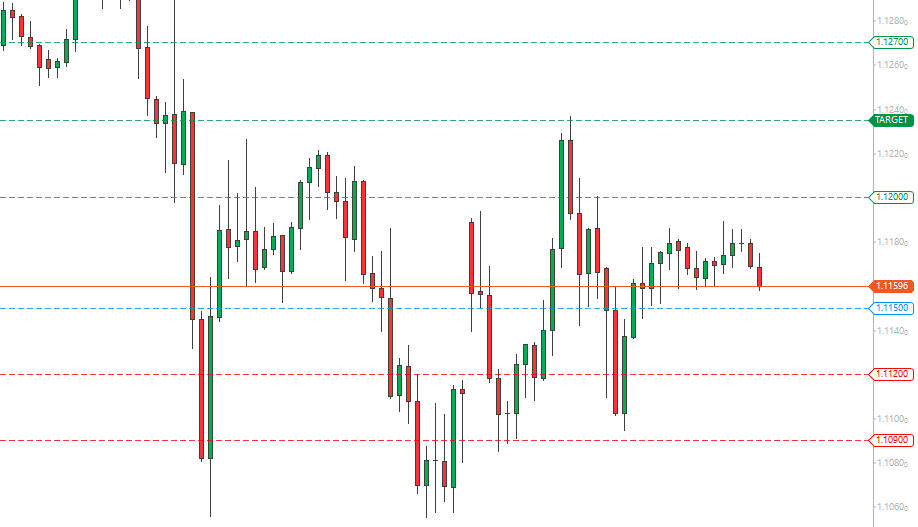 Video Tutorial
This is part 9. of the video series tutorials.
* Video length: 6-minutes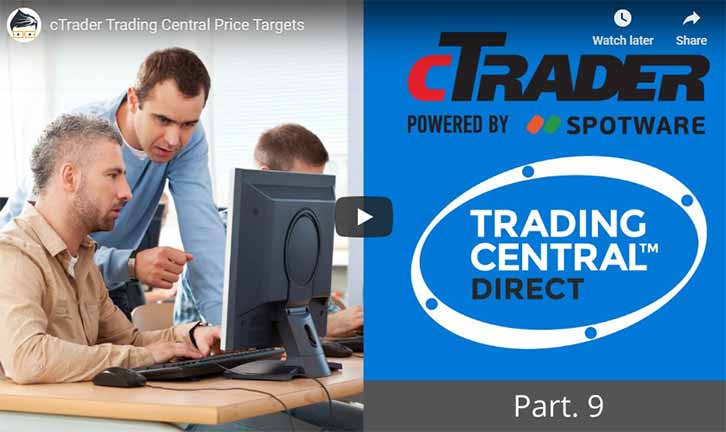 Which Brokers Support Trading Central?
Not all cTrader brokers will support the Trading Central Analysis integration with the cTrader trading platform, if you do not see this feature on the version of cTrader that you are using it will be because your broker does not yet support it. There are only a few brokers that currently support this feature and one of them is FXPro, you will also find this feature if you use cTrader Beta.
Need Extra Help?
If you are fairly new to the cTrader platform we have an online user guide and hands-on video tutorials to help you.