A cTrader price alert is a notification that is sent to the trader in the form of an audible sound, pop-up and email when the price of an instrument reaches a set target. Most traders wait until the price of a symbol reaches a specific target before they decide to enter or exit a trade and price alerts are very useful when they are away from the PC or they are looking at other information.
Using the cTrader platform you can configure and manage multiple alerts at the same time and these alerts are displayed on the chart as shown below as a yellow line.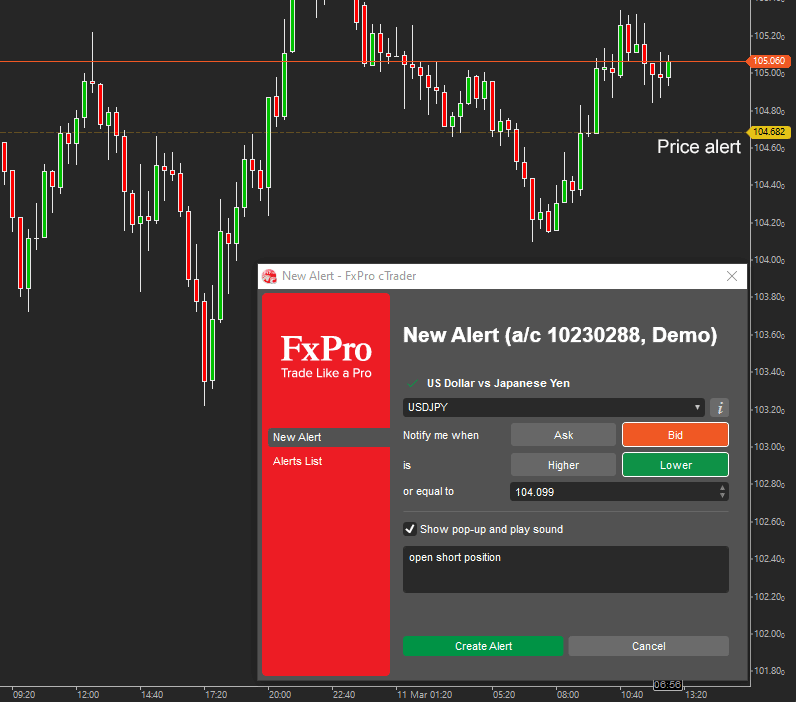 There are various methods to create a price alert and a dialogue box will appear so that it can be configured correctly, there are options to set the trigger using the asking or bidding price of the symbol price as well as the alert condition which can be greater or lower than the price as shown in the image above.
Video Tutorial
This is part 7. of the video series on how to use the cTrader platform and modify market and pending orders.
* Video length: 5-minutes
Trendline Breakout Alerts
If you are looking for an indicator that will send you an instant Telegram message to your mobile phone or a pop-up message on the screen when the price breaks past a trendline then we offer this on our website.
Complete cTrader Video Tutorials
We also have a list of macro-video tutorials which cover all the different features of cTrader, so you can choose what interests you the most. There is also an online user guide for people who do not understand English and can convert the text on a web page.
cTrader Price Alerts Professional -
Telegram Alerts
If you are looking for more advanced price alerts where you can send an instant alert to your mobile phone using the Telegram messaging service then we have to tool for you.
Official cTrader User Guide
This is the official user guide for cTrader for price alerts.